Rally

Kenai Kennel Club member Nancy Wiles and her Boxer Paris
Competing in the Intermediate Rally Class
July, 2018
Click on "Full Screen" at right hand bottom of video

..
Pictures from the AKC Website: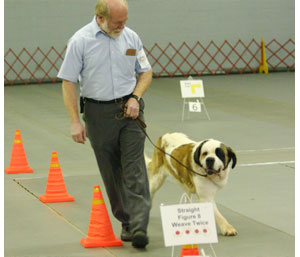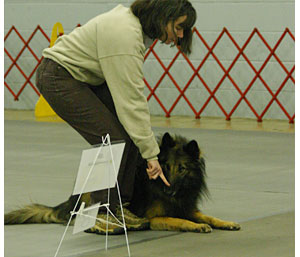 What is Rally?
Rally is a fun class for both dogs and trainers. It's a successful stepping stone from the AKC Canine Good CitizenŽ program to the world of obedience or agility.

Rally offers both the dogs and handlers an experience that is fun and energizing. The canine team moves at their own pace, very similar to rally-style auto racing. Rally was designed with the traditional pet owner in mind, but it can still be very challenging for those who enjoy higher levels of competition.
Rally is a sport in which the dog and handler complete a course that has been designed by the rally judge. The judge tells the handler to begin, and the dog and handler proceed at their own pace through a course of designated stations (10 - 20, depending on the level). Each of these stations has a sign providing instructions regarding the next skill that is to be performed. Scoring is not as rigorous as traditional obedience.
Communication between handler and dog is encouraged and perfect heel position is not required, but there should be a sense of teamwork between the dog and handler.
The main objective of rally is to produce dogs that have been trained to behave in the home, in public places, and in the presence of other dogs, in a manner that will reflect positively on the sport of rally at all times and under all conditions.
If you're interested in taking a Rally class, please go to
Note: For those competing in rally trials:
Click
here
for a complete list of all the signs
Current Obedience/Rally Regulation booklets are available at the club for $5.00